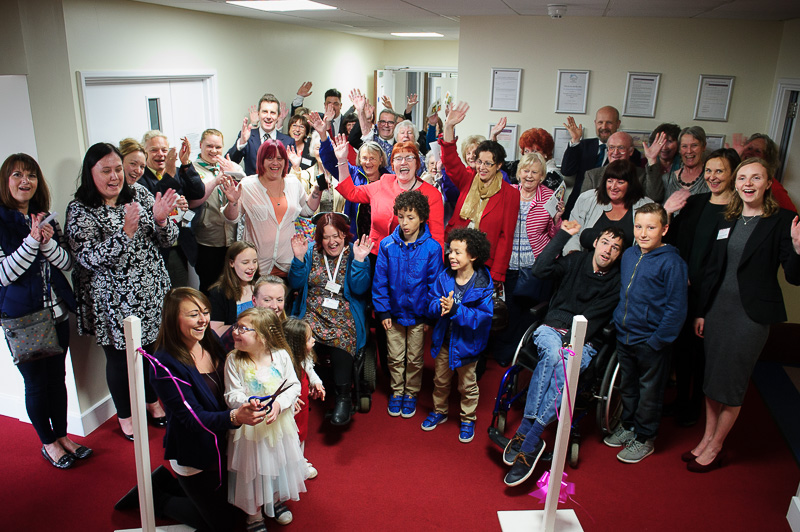 Event Photography Southampton for Rose Road
The amazing Rose Road Association
I've worked alongside Rose Road for some years now. They're an amazing organisation that work with children, young people and their families from across Hampshire. The people who attend Rose Road have multiple and often complex health needs. The Rose Road team strive to give them the best care and support possible.
New and improved
The centre which Rose Road operates from has just gone through an extensive refurbishment. A new sensory room has been added. A play area with decking has been added. Bedrooms and bathrooms have been given a refreshing facelift. P They required photographs to mark the occasion and for press releases. The official opening ribbon was cut by a special little lady called Phoebe before a group photo was taken. Then as the sponsors, benefactors and trustees took a tour of the new facilities pictures were taken in a documentary style.
After the tour there were some speeches that included a number of thank you's for those who helped on their project. Fundraising Director, Neil Wilson was thanked for his time and efforts as he moves his career into a new direction.
Event photography Southampton for Rose Road was a 1-hour shoot that took place on 1st June 2016. Images were supplied as digital files via our secure cloud-based servers. For charities such as Rose Road, we have an annual marketing budget that allows us to offer a discounted rate for photography. Feel free to get in touch if you would like to discuss your charity's event photography.